'Over 20 years' experience within the specialist recruitment sector'
Bourne Recruitment is an established, specialist recruitment consultancy with extensive experience in recruiting for Board level and Senior Management roles in both local and international markets.
With an expansive international network and in-depth understanding of global recruitment processes, we are uniquely positioned to identify successful candidate/client matches.
Bourne Recruitment – Creating a Buzz
Bourne Recruitment is proud to include the Manchester Worker Bee symbol within its logo.
The Manchester Worker Bee is a prominent and recognised symbol of the City of Manchester; its industrious history and community spirit however, the symbol also holds a significant personal importance for Bourne Recruitment's Founder Director: Andrew Bourne.
With over 20 years' experience within the specialist recruitment sector, Andrew is a renowned and respected recruiter who is recognised for his commitment and approach to establishing successful introductions between clients and candidates. Andrew appreciates the importance of streamlining the recruitment process for both parties and the background work required in order to successfully achieve this. This level of commitment and approach to recruitment is the ethos and culture upon which Bourne Recruitment has been established.
Coupled with Andrew's commitment and drive to delivering the highest standards of recruitment and placement, he has throughout his career had held an affinity with the Manchester Worker Bee and what the symbol represents. He therefore felt compelled to incorporate this symbol within the logo for Bourne Recruitment in order to highlight to both clients and candidates the service and commitment that they can expect from the company.
To find out more information about Bourne Recruitment and how we can assist you with searching for a new member of your team or assist with your next career move:
Contact the team today on: +44(0) 161 262 1069
or e-mail andrew@bournerecruitment.co.uk
CREATING A BUZZ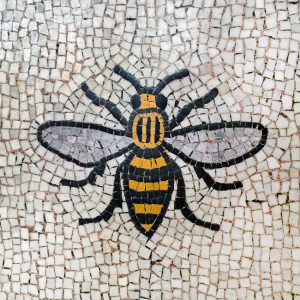 Andrew appreciates the importance of streamlining the recruitment process for both parties